By Atlas Corps
September 5, 2012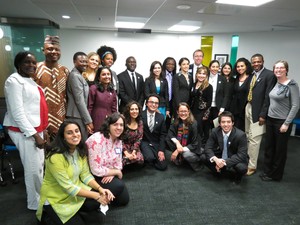 In 2011, Atlas Corps and Anna Flores (American Express) celebrated achieving our "50 in the 50th" goal with support from the American Express Foundation.
Yes, the headline is true! The American Express Foundation just announced a three-year partnership to support the expansion of Atlas Corps.
In 2011, the American Express Foundation helped double the size of Atlas Corps as we achieved our goal of 50 in the 50th—to engage 50 nonprofit leaders as Atlas Corps Fellows in the 50th Anniversary of the Peace Corps and our 5th Anniversary. Now, in 2012, we take that partnership to the next level as we initiate Vision 2015—a three-year scaling strategy to expand our program to engage 100 Fellows per year. The American Express Foundation will support Vision 2015 with a three-year, $150,000 commitment that will support the expansion and enhancement of the Atlas Corps model.
"We are thrilled to engage in a multi-year partnership with Atlas Corps and its Fellowship program," said Timothy J. McClimon, President, American Express Foundation. "These Fellows will have a unique opportunity to help to shape this increasingly globally connected nonprofit world, and their ability to lead will be critical to the sector's long-term success."
Each international Fellow commits to a 12 to 18 month fellowship in organizations located in Washington, DC, New York, and other cities throughout the United States as well as Colombia. These Fellows serve in some of the most dynamic organizations in the United States and Latin American. Currently, the Atlas Corps network includes 140 Fellows from 40 countries who have served at organizations that include: American Jewish World Service, Ashoka, Fundacion Escuela Nueva, Grameen Foundation, Oxfam GB, Susan G. Komen for the Cure, UN Foundation, and the U.S. Fund for UNICEF. I invite you to meet our current Fellows. (Our Class 10 Fellows just started Orientation Week THIS WEEK!)
This innovative investment supports the future of international service—programs that go beyond a short-term experience to give participants the depth of long-term engagement and cultural immersion. Now, more than ever, we see the value in building bridges across cultures and countries in our increasingly globalized world. Atlas Corps achieves this goal by addressing social issues, developing leaders, and strengthening organizations through an innovative approach that facilitating international cooperation in the nonprofit sector through face-to-face interaction.
Can you help spread the word as we continue recruitment for our first January 2013 Class? Just share this message with your networks: Global development professionals invited to apply for prestigious @atlascorps fellowship bit.ly/FellowApplication
Congrats on this exciting news that we celebrate as a network!

Scott Beale
CEO & Founder, Atlas Corps