By shorouk elkobrsi
August 31, 2017
If you're an international fellow, then I know the struggle my friend!
Leaving your home country, family, and friends can be challenging. These practical tips may sound like common sense to someone who's never experienced crippling sadness, but for those of us who know what it feels like to be hanging on by a thread, hopefully my list can help you survive the way it's helped me.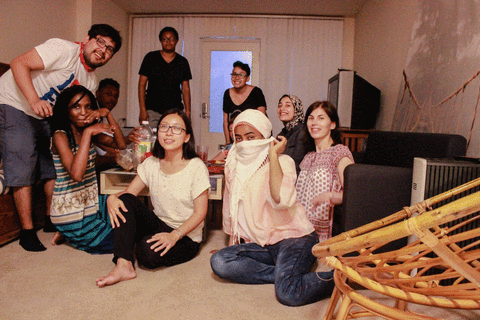 Cook some Love!
Whenever I'm depressed I lose my appetite, but cooking had the power to change that!
I still remember the moment my mom used to open the oven's door to the best home-made sizzling cheesy pizza ever.
Cooking is a very healthy way to express yourself. Jump in the kitchen, prepare your favorite ingredients, spices and utensils, and start cooking your favorite local meal.
Now
Tip 1: if you can't find your local spices, search google again! I was able to find Arabic markets around the DMV area easily, they had even local products from my home country.
Tip 2: If the meal you prepared was very bad, you're still learning my friend, you can always laugh about how bad you are.
Tip 3: Eat it alone, or share it with others, as long as you'll be sitting somewhere lovely, and watching something nice.
2. Exercise!
Tip 1: If you're based in the DMV area, then it's a great opportunity to bike to work or during the weekend. Check out BikeShare, or you also can borrow someone's bike, or buy one if you want.
Tip2: Walk to work if it's close, or if your work is far, you can walk on the escalator. I work in Rosslyn, and this is the escalator that I have to climb everyday:
Tip 3: Find an affordable gym, or a mate to exercise with. If you're a fan of group exercises, there's the November Project, completely free, and so much fun people to exercise with!
3. Go out, you're not a Vampire!
My love and appreciation for the sun is increasing day after another. Go out my dear friend, let the sun hug your bones.
Tip 1: I assume you're working indoors, my tip is go out during lunch time to enjoy the sun. Leave the office during breaks -that's why they're called breaks- or even if you have a cool rooftop like my office, enjoy eating your food there.
Tip 2: Winter is coming! now I know that can be kind of challenging with the bad weather, but try to save some sun in your system by going out early in the morning on weekends.
4. Have a long hot shower
I know this one may seem the most obvious to some, but good hygiene can be the key for muscle pain relief. It's when you feel numb and apathetic to life, take a long hot shower. Remember you are not just cleaning your body, but you're also clearing your mind.
5. Have a Safe Haven
Whether it's your cosy room, your living room couch, a person, or your backyard. Creating a safe haven is one way to express belonging.
6. Learn Something New
Whether it's a language, information about an interesting field, or even a music instrument.
 Tip 1: Check out these two apps (Meetup and Eventbrite) for meetups, events, and workshops.
Tip2: If you're a reading worm, check out the DC public library.
7. Relax!
If you're stressed all day long, then take time to relax, play yoga, or just sleep. It's healthy and crucial for your productivity.
8. Have a comfort zone
Whether you're an introvert, an extrovert, or a merge of both, spend time with people, share food, and laugh from the bottom of your heart.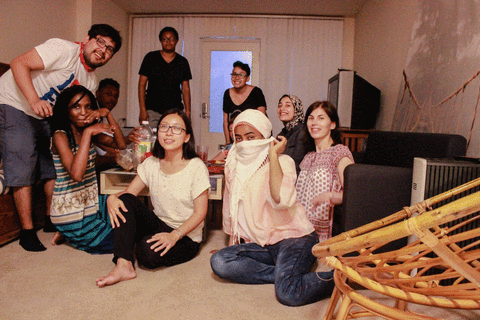 GIF's credit to: Carlos Jauregui
9. Be nice to people 
Volunteer – smile – be kind.
10. Be nice to yourself
Count your blessings, and know that everything is a learning experience. Probably the biggest issue with depression is the slippery slope of self-loathing, but my dear friends, you're unique the way you are. Keep reminding yourself that you're talented, gifted, and have so much to offer the world. I promise the feeling of emptiness will go away, and I know that you're capable of doing this.